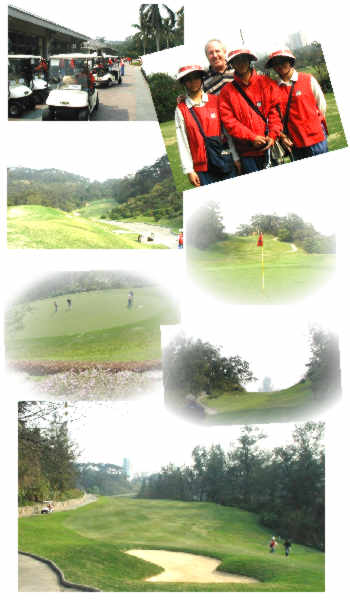 PLAY GOLF IN CHINA............an experience you can afford




It's a twelve hour flight to the other side of the world to experience golf in a country that has only 200 golf courses, but they are some of the best in the world and its well worth the trip.
There are currently another 100 courses under construction.

Mission Hills in Southern China is in the Guiness Book Of records as the biggest Golf Club in the world with 180 holes, yes 10 courses.

China is really starting to take the game of golf seriously. Whereas if you speak to a Scotsman, golf started in the old country. If you speak to the Chinese they invented the game some 400 years ago.

Most of the courses are built in an American style with well manicured greens and surrounding flora and fauna. The first course that I played " Paridise in the Hills" the Lulu Golf and Country Club overlooking the busy South Eastern city of Guangzhou is a real experience with tight driving holes, well cultivated fairways and wonderful greens.

The huge modern club house dominates the course which takes you around a sort of mini mountain interspersed with water features. It is not an easy course it is a real challenge. You are struck by the cleanliness of the course, the friendliness of the staff , green keepers and caddies.








On my second visit in March 2005 I played at Dragon Lakes about an hour away north of Guangzhou.

The course is stunning set among the mountains with well manicured fairways and good firm true greens. On a number of the holes there are tough water features. The back nine plays tougher than the front with some pretty challenging holes in particular 14 and 17. In China you have a buggy and caddies where ever you go. I tipped the my caddy 100 yuan which is about £7 at the current rate of exchange. I hired some clubs at Dragon Lakes, I had a choice of two sets. The Clubs, caddy and buggy cost about £28. In the fantastic club house as well as super shower facilities there is a jacuzzi to relax before going up to the restaurant for a stunning buffet. Although a western style buffet there were some pretty exotic items on the menu, ducks tongue, chicken feet, and pidgeon head.

In 2004 got my flight by using the web site www.airlinenetwork.com it cost me £582 to fly to Hong Kong with Cathay Pacific and then a short hop with South China Airlines to Guangzhou. All pretty easy really. With 5 star hotels costing around £25 a night including breakfast. Your money does seem to go a lot farther.

In March 2005 I got a flight on the Internet this time with a company called Benz Travel. I flew with Air France from London to Paris, Paris to Guangzhou. The change both going and coming back was about 30 minutes and the Air France service was absolutely brilliant. Cost this year £406, yep its getting cheaper


Club-Noticboard is delighted to recommend a visit to China to play golf please contact us for details of packages available for groups big or small. See details below with regard to the International Golf Exhibition in Guangzhou March 2006.


GREAT VENUE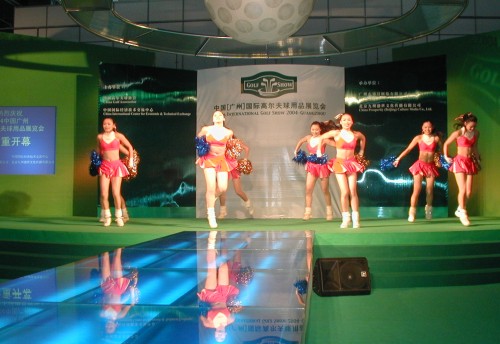 CONTACT US

FOR MORE DETAILS ABOUT GOLFING HOLIDAY IN CHINA

Click Here

TO EXHIBIT AT THE INTERNATIONAL GOLF EXHIBITION IN GUANGZHOU
IN MARCH 2005

Click Here

BUSY STANDS -